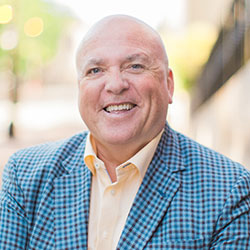 Senior Advisor for a Portfolio of Private Companies
Wayne is a business leader growing several private companies including the Venor Search Group, 24Care Health, Precipice Capital, Sports Entertainment Atlantic, and others. Wayne has also been involved with several technology companies including being the Chief Operating Officer of Unique Solutions Ltd. which is a technology company with offices in San Francisco, Halifax, and Philadelphia.
Previously, he was President and CEO of Emera Inc.'s Caribbean Business and built this business for Emera to achieve annual earnings of over $18 million. Before the Caribbean leadership position, Wayne was Emera Vice President of Corporate Development and Corporate Strategy. His results produced over $55 million in annual earnings for Emera including Brunswick Pipeline, Northeast Reliability Interconnect, Bear Swamp generation and Bangor Hydro Electric. Wayne was also the Emera executive responsible for the company's strategy and investments in the emerging tidal power generating technology. Wayne's career at Emera included progressive senior management positions as President & CEO of Enercom, Director of Customer Service Operations, Director of Corporate Effectiveness and Senior Manager of Internal Audit. As Director Corporate Effectiveness he was the company's youngest appointed Director and achieved annual cost savings of over $53 million. As the "hands on" leader in the company's corporate effectiveness program, Wayne's work was highlighted in the national CA Magazine article entitled "Powering Up For Change", the Globe and Mail change page and the CBC "Venture" program.
A native of Nova Scotia, Wayne received a Bachelor of Commerce Degree, graduating Magna Cum Laude, from Saint Mary's University and completed his CA designation with Deloitte. His continued education includes the Harvard Law School Executive Negotiation Program, Harvard Business School Corporate Strategy and Innovation, The Wharton School - Strategic Finance and Marketing Program and the Executive Leadership Programs with both the North American Centre for Creative Leadership and the Niagara Institute. Wayne was Chairman of the Board of Barbados Light & Power Company and served on the Boards of the Grand Bahama Power Company, Open Hydro Generation Company in Ireland, and ICD Utilities Ltd, a Bahamian publicly traded company. From 2004 -2008 Wayne served on the Board of ENTx Capital Corporation; a Calgary based private equity company.
Wayne is a Member of the Atlantic Canada Chapter of WPO / YPO (World President's Organization). In 2011 Wayne became an Honorary Lieutenant Colonel in the Canadian Military responsible for the 3 Military Police Regiments. Wayne is Vice Chair of Trade Centre Ltd., a member of the Board of Governors for Saint Mary's University and also for Junior Achievement Nova Scotia. He is a past Chair of both the Board of Governors for the Atlantic Provinces Economic Council (APEC) and past Chair for the Nova Scotia Junior Achievement Hall of Fame. Wayne's results for Junior Achievement including raising the most funds in the eighteen-year history of the JA Hall of Fame events. Wayne's past community involvement also includes Board Member of the IWK Health Centre Foundation, Neptune Theatre, Halifax Club, Pier 21 Society, Nova Scotia Film Development Corporation and Executive of the Halifax Chamber of Commerce Board. With the Halifax Chamber of Commerce, Wayne was Executive, Vice President of Membership and established five-year strategic goals to double membership revenue.
Wayne was also selected to be a representative for Atlantic Canada on Prime Minister Chretien's Team Canada Trade focused on the Southern United States. Wayne was a founding member of the David Foster Foundation Atlantic Canada Fundraising Committee which achieved over $1.6 million net in fundraising for the Gala. Wayne served on the Council for the Institute of Chartered Accountants of Nova Scotia and Board of the Financial Executive Institute of Atlantic Canada. He was also a part time professor for the Masters of Business Administration Program at St. Mary's University where he was recognized as MBA Professor of the Year. Wayne was honored as one of Canada's Top 40 under 40 in 2001.