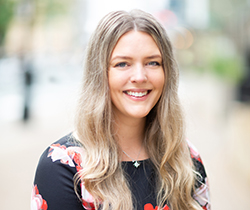 Andrea Wilkie, is Vice President Finance & Corporate Services at Events East Group. Andrea's focus is on the delivery of high quality financial services, information technology, and human resources for the organization as a whole. She champions Information Communication Technology (ICT) at the senior executive level and oversees a management team of financial, technical, human resource, and procurement professionals.
Andrea is a Chartered Professional Accountant (CPA) with over a decade of experience. She has extensive knowledge in all aspects of accounting and finance including financial reporting, financial controls and information management systems.
Andrea has a clear commitment to the community and has previous involvement with various community initiatives including the Halifax Partnership's connector program. As an active volunteer, Andrea currently serves on the Board of Bryony House and is always looking for ways to positively impact the community.