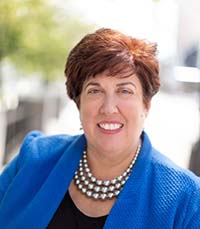 Director, Parks & Recreation, Halifax Regional Municipality
Denise Schofield has served the residents of HRM for the past 22 years in a variety of progressive roles, including Design Engineer, Development Engineer, Manager of Development Engineering, and Manager of Regional Recreation/Program Support Services with the Transportation & Public Works, Planning & Development and Parks & Recreation business units. Since 2011, Denise has managed corporate and strategic files for Parks and Recreation and, more recently, was appointed as Director of the business unit.
Denise has a Bachelor of Science from Mount Allison University, a Bachelor of Science in Engineering from the University of New Brunswick and is also a Professional Engineer. She grew up in the Annapolis Valley but has lived in Halifax for most of her adult life.  Denise has been involved in a number of volunteer opportunities including Mount Allison Alumni Board, YMCA of Halifax, and United Way of Halifax/Dartmouth.