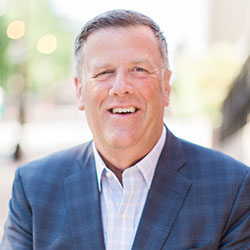 President & Managing Partner, Knightsbridge Robertson Surrette
As President and a Managing Partner with Knightsbridge Robertson Surrette, Jeff has spent the past 19 years successfully completing hundreds of searches, recruiting outstanding executives and senior leaders for a wide spectrum of public and private organizations – from regional start-ups to multi-billion dollar organizations. Jeff plays an active role in the firm's executive search practice, leading game changing search assignments.
His extensive knowledge of industry, the region, the labour market, along with his ability to match skills with requirements, has earned Jeff a highly loyal and impressive list of clients. They continue to look to him for the expertise they need to stay competitive. Jeff also plays an instrumental role in the leadership of the firm's growing HR consulting and career transition practices.
Being an active member in his community, Jeff has been involved in several professional and charitable initiatives and organizations. He is currently a member of the Board of Directors for the Canadian Cancer Society of Nova Scotia, Trade Centre Limited and the Dean's Medical School Advisory Board at Dalhousie University. His longstanding involvement with the Halifax Chamber of Commerce began when he first joined the Board of Directors and Executive Committee in 2005, and included the role of Chair for the Board of Directors in 2010. He also led the Human Resources and Governance Committee to implement the Chamber's first CEO Assessment process as well as its first board self-evaluation program.
Jeff has also been involved with the A GREATER Halifax 2011-16 Economic Strategy for Halifax, and sat on the International Brand committee and the Art Gallery of Nova Scotia as a Board member. He has helped raise vital funding and awareness for such community organizations as the Sunshine Foundation, the IWK Health Centre and the Metro Food Bank; participated in the Fusion Halifax's Mentorship Program; and, is currently an active participant in the Nova Scotia Business Inc.'s "ConnectNS", acting as a mentor for entrepreneurs and professionals. Before joining Knightsbridge Robertson Surrette, Jeff earned a Bachelor of Commerce degree from Dalhousie University and held a series of sales management positions with one of Atlantic Canada's leading private companies. Jeff has earned his Certified Management Consultant (CMC) designation which is the highest professional standard in management consulting.
Originally from Antigonish, Jeff currently lives in the Halifax area with his wife and two daughters. He is an avid golfer and a real estate investor, finding time to pursue his favourite pastimes whenever his busy schedule allows.