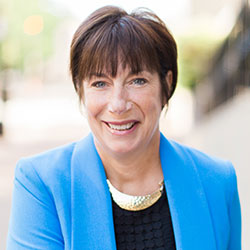 Carrie Cussons is President & CEO of Events East Group managing the Halifax Convention Centre, a 120,000 sq. ft. Convention Centre in the heart of downtown Halifax, Scotiabank Centre, the largest multipurpose facility in Atlantic Canada with a seating capacity in excess of 10,000 and Ticket Atlantic, the region's primary ticket provider. Since joining the organization in 2009, Carrie has been a strategic lead in all areas of the business with a core responsibility for ensuring the efficient delivery of corporate and operational initiatives to support business growth and success.

Most recently, she championed the organization's successful transition to the new Halifax Convention Centre, including development and activation of operational preparations, corporate restructuring and a human resources strategy. Having been involved since the new convention centre project began, she was instrumental in the facility's design and has worked closely with the organization's partners and employees to ensure the facility exceeds client and community expectations. 
Carrie is a leader in the event industry who is passionate about attracting marquee sports and entertainment events that create community vibrancy as well as national and international conventions that drive economic growth for Nova Scotia. 

Prior to her appointment as President & CEO, she was Chief Financial Officer and led the Corporate Services group, including finance, human resources and technology. 

Carrie brings a diverse business background, including over two decades of management experience with a concentration in financial and operational leadership. She has held executive leadership and finance roles in a variety of public and private sector organizations including the Nova Scotia Liquor Corporation, the CCL Group and Ernst and Young. She has played a lead advisory role on business strategy, measurement and financial reporting. 

A graduate of Acadia University, she received her CPA, CA designation in 1991, and in 2015, she completed the Director's Education Program through the Institute of Corporate Directors. Carrie is currently a member of the Women's Leadership Collaborative and the International Women's Forum of Canada, Secretary of NAIG 2020 (North American Indigenous Games) and Chair of the 2020 IIHF Women's World Hockey Championship.  Carrie also holds international memberships in IAVM (International Association of Venue Managers), AIPC (International Association of Convention Centre Centres) and ICCA (International Congress & Convention Association).